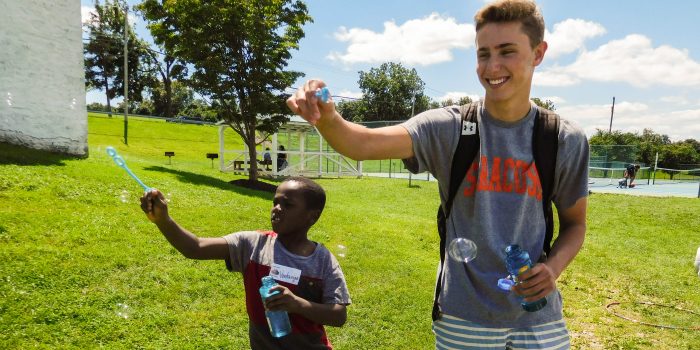 Back-to-School and Fun at the Pool
We recently hosted our summer BBQ and pool day at Church Farm School. The experience was great fun for the mothers and children in our programs, our volunteers and staff. We also distributed our Back-to-School backpacks, which helped us bring school supplies, clothes, and backpacks to 81 children. We were able to bring many smiles to our program participants. Here are a few highlights of the day:
Back-to-School backpacks
Thanks to our Back-to-School backpack initiative, we sent all kids home with a brand new backpack and much needed school supplies. All program participants are on strict budgets, making it nearly impossible to get all necessary school supplies or uniforms. Thanks to our generous donors, we were able to provide essential supplies, backpacks, and back to school outfits for 81 children.
Swimming
We were happy to see so many kids and swim buddies having fun in the pool! The kids dove right into the water, splashing around and playing with each other. For many of our program participants, pool days in the summer are hard to come by and it was great to see them having so much fun!
Pool buddies
We had three volunteer pool buddies who really took the fun to a new level by allowing the children to play chicken. They held the kids on their back while making sure everyone was safe and having fun. Our college student pool buddies were true heroes of the day!
Face painting
This is always a huge hit! The kids loved showing off their princesses, animals, pirates and superheroes like Spiderman and Teenage Mutant Ninja Turtles. There were even glitter tattoos!
Snack time
With pizza, fruit, veggies, chips, and cookies, we made it a perfect pool day.
Our favorite part(s)
We were so excited to see the reactions on the kids' faces when they won prizes or reunited with old friends. Seeing their joy and excitement is part of what made the day so special for us. Some of them lived together at our transitional house and it's nice to see that they still keep in touch with one another at our events. We loved watching the kids have so much fun playing games, winning prizes, and having a blast in the pool!
What made our day, was one boy coming up to us to say, "This is the best day ever!"
This article was written by Dana Pilotti.