Back-to-School Program 2021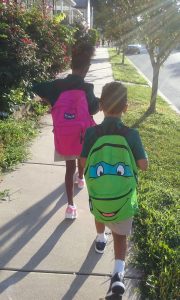 The first day back to school is important in every child's life. For many mothers and children in our programs, this is also a worrisome time. On a small budget, it can be difficult to buy backpacks, shoes, uniforms and school supplies.
Education is the beginning of a successful life, this is why we want ALL kids in our programs to have an exciting start into the new school year.
You can choose to help a specific child, or hold a drive to collect supplies. Your support means the world to our young program participants, their mothers and our community!
"For the first time, I was excited to go back to school. I had a new backpack like all the other kids, a cool outfit and even a new lunchbox. I felt ready to learn!" Alex
2 Ways to Support Children in Need of School Supplies