Meeting women where they are...
*All client names and photos are changed to protect the client's privacy.
Meet Cleo
In 2003, Cleo left a toxic relationship. She packed up her three young boys and some baby clothes for the child she was expecting and walked away from everything she knew – her home, her possessions, and her neighborhood to seek a new life in Chester County. At the time she felt broken and blamed herself. Fortunately, she found Home of the Sparrow.
Cleo recalls her first interaction with HOS. "They allowed me to start respecting myself and my self-confidence grew. They helped me open my first checking account and educated me on how to work on a budget." Cleo and her children lived the HOS transitional house, the precursor to our Supportive Housing program and applied for additional programs and services offered by other agencies and the County. After she delivered her son, she enrolled her boys in school and day care and went in search of employment.
She found a job as a teacher's aide and realized she had a talent for working with children who needed emotional support services. This was the catalyst for earning her bachelor's in education. Her promotion to an Emotional Support Teacher motivated her to pursue her master's in psychology. Today, Cleo is a Kindergarten teacher and is working toward her Montessori certification.
All four of Cleo's boys followed in her footsteps and earned or are currently working on their college degrees. Four months ago, Cleo married the love of her with whom she owns and operates a photography business.
Cleo has never forgotten all that Home of the Sparrow did to support her path towards self-sufficiency and that's why she "pays it forward" by helping young mothers who are struggling. She refers them to HOS where she knows they will receive respect along with the financial support and case management services so they, too, can thrive. She tells them that, "Although it may seem like you are alone in the dark, there is a light at the end of the tunnel with Home of the Sparrow."
"I would not be where I am today had it not been for Home of the Sparrow. Working with the staff was like having a support system, a family. I always knew that if I needed any help in the future, all I had to do was ask. There was always someone there to listen and help." Cleo concludes, "It took a village to make me who I am today and I'm so grateful."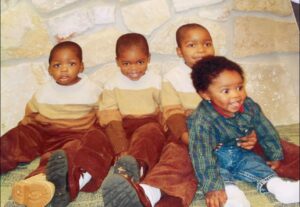 Photo of the boys when Cleo was receiving services at Home of the Sparrow.
Dion (4), Dre (3), Dionte (2) and D'Angelo (6 months)
Meet Tonia
"She has a heart of gold." This is how Matrie Johnson, Home of the Sparrow's Director of Programs describes Tonia who came to HOS in 2008 with her little girl in tow. "I remember how much her daughter loved dressing up. I also remember how determined Tonia was to lead an independent life." While working with HOS, Tonia went back to school to advance her career in healthcare while holding down three jobs. Her hard work paid off – she was able to purchase her own home in 2017. "I am so grateful for Home of the Sparrow. As a young parent, you taught me so much. From the strict budgeting to how to be a good parent myself. These were things that no one had taught me before." Recently, Tonia has been paying it forward by allowing one of our former program participants to stay in her home rent free while she gets back on her feet. "I really want to help people and to give back." This past year was a struggle for Tonia because she was laid off. But she says she was prepared to take on the challenge because of what she learned from HOS. "I can honestly say everything I learned from Home of the Sparrow prepared me for THIS year. When hard times hit, I was able to bounce back and take care of myself and my daughter." Tonia has started two new jobs and continues to provide a stable home for her daughter. Matrie adds, "I LOVE the humanity that Tonia has shown, the sisterhood and support. She rarely reaches out to HOS for support, but always keeps in touch. I am so PROUD of the woman she has become."
Meet Gail
"A remarkable women!" Ale Colin, an HOS program coordinator, has a lot of respect for Gail and her perseverance. "Ms. Gail has always been a hard worker and a responsible person and her dream of having her own home has never wavered despite chronic health issues and many setbacks." When Gail came to HOS in 2019, her goal was to save money, pay off debts, and get on the waiting list for a senior subsidized housing voucher. "I had a good job at a pharmaceutical company. But when COVID hit, we were forced to close and eventually, I lost my job. I was just a few hours away from needing to live in my car." HOS enrolled Gail in our Pre-Senior Bridge Housing Program and she moved into one of our units. Gail has a new part-time job doing data entry for a medical office and was approved for Social Security benefits. Her new income helps her balance her finances while she focuses on improving her health. Gail has reduced her debt, created substantial savings, and next month she will move into her own apartment utilizing the public senior housing program, thereby achieving her goal of financial and housing stability. "I'm very excited to have my own place and to invite friends over for dinner!" Gail expresses gratitude, for not only the services provided and skills learned during her time in the Pre-Senior Bridge Housing Program, but also for the respect she was given. "From the first phone call until now, I have always been treated with respect and kindness. I appreciate the way I was guided and supported while getting back on my feet. Everyone believed in me."
Meet Allison
Allison was referred to Home of the Sparrow by a partner agency. She always worked fulltime and although she lived paycheck to paycheck, she was self-sufficient. When her retail job was eliminated, she could no longer make ends meet. For the first time in her life, she was at risk of becoming homeless.
Home of the Sparrow reached out to her landlord to state our involvement. We helped pay her back rent and enrolled her in our Supportive Housing program. Now that her housing crisis was averted, Allison tuned her attention to securing a new job. After receiving her first paycheck, she met with her coordinator to begin cultivating good financial habits within HOS's intense budgeting program.
Allison is currently working multiple jobs to build self-sufficiency. In addition, she secured grants and scholarships to earn her esthetician certification which has always been her dream.
To help further her career, Home of the Sparrow connected her to a dedicated volunteer who coaches women with entrepreneurial aspirations. We are incredibly proud of Allison's grit and determination.
Thanks to your support, Allison is stably housed and continues to benefit from the services at Home of the Sparrow.