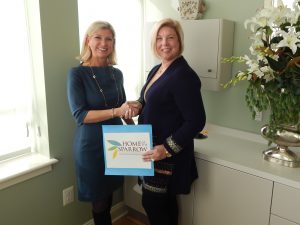 We have an exciting new partnership to announce! Dr. Lindsey Marshall, award-winning cosmetic and neuromuscular dentist in Ardmore, PA is partnering with Home of the Sparrow. Dr. Marshall will be donating complimentary dental services to participants in our programs beginning this January.
For women with low and very low incomes it is often impossible to afford cosmetic dentistry or even routine dental exams. This new collaboration will hopefully open many new doors for the women we support with the dental health needed for themselves and their children.
A single woman's or mother's safe housing and financial stability mostly depend on her income. We also know the importance of confidence in one's appearance in gaining meaningful employment that allows self-sufficiency. Through our partnerships with Wings for Success, Career Link, OIC, a college planner and case by case skills training, we provide essential resources to our women, enabling them to reach for better-paying jobs. Our new partnership with Dr. Marshall is an amazing opportunity in this regard and we are thrilled to have her on board.
Dr. Lindsey Marshall is a cum laude graduate of the Harvard School of Dental Medicine and she continued her post-graduate education at the prestigious Las Vegas Institute for Advanced Dental Studies. Her practice is in the Times Building of Suburban Square in Ardmore, PA on the Main Line.
Dr. Marshall shared, "in reflecting upon my goals for the new year, I realized my greatest strength is the ability to restore a person's confidence by giving them a happy, healthy smile. The women who have actively sought the support of Home of the Sparrow are eager to start anew and by giving them and their children dental services to improve their sense of self and overall health, I hope that the transition back to independence will be just a little bit easier."
Home of the Sparrow has always treated housing and homelessness in a holistic way. Our new partnership with Dr. Marshall is a great addition to the resources we are able to provide to the women with whom we partner. We are very honored to have Dr. Marshall's generosity and good will and we look forward to the positive impact we will have together as a team.