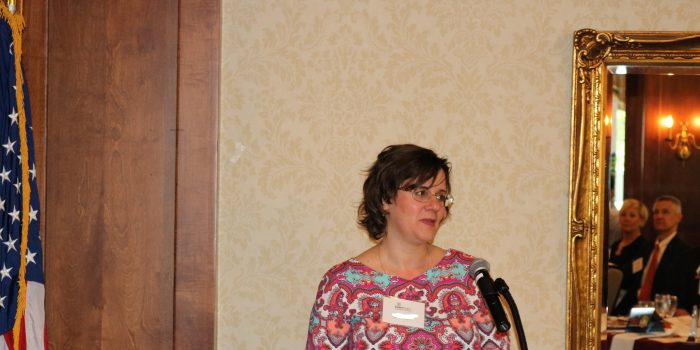 Home of the Sparrow Transformed my Life
Karyn recently graduated from our Supportive Housing Program and she is now part of our Graduate Program. She recently shared how Home of the Sparrow transformed her life at the Exton Region Chamber of Commerce Non-profit Luncheon on June 6, 2017. 
I was doing everything I could
When I first came to Home of the Sparrow, I was desperately looking for help. As a single mother of 6 children, with a full-time job, I was already doing everything I could to survive on my own. I recently got divorced from my husband and my closest family and friends were over 3 hours away. From the beginning, Home of the Sparrow's staff took a genuine interest in my life. They gave me hope and encouragement, which was something I really needed.
So much more than help with my rent
When I started the Supportive Housing Program, I thought I would be getting rental assistance. I got so much more than that. Home of the Sparrow helped me plan my budget, they supplied meals, clothes, and even basic necessities like toothpaste. They always seemed to know exactly what I needed to get back on my feet. They met me where I was, without judgement, and walked with me in friendship.
 I began to remember that life can be good now and then.
With Home of the Sparrow's support, I began to remember that life can be good now and then. The family activities that Home of the Sparrow planned and created always exceeded my family's expectations. The staff gave so much time, energy, and resources that everything became special and memorable. And it really showed my kids that we could have good times again. These were experiences that I very much wanted to give my family – and Home of the Sparrow made that possible.

The challenges
But it wasn't all fun and games. When a school friend of the kids committed suicide, Home of the Sparrow made it possible for me and my kids to visit a local psychologist. At one point, I was overwhelmed by the challenges my teenagers were facing. They needed to find summer jobs and make decisions on their futures. Through Home of the Sparrow, we met with a wonderful education counselor. They even sponsored two of my kids to go to business camp this summer.
Dignity and kindness
There were times when I needed support, and there were times when I wanted to try to do my best on my own. They respected those decisions and always treated me with dignity and kindness. It meant so much to me, coming from a traumatic relationship, that I would be respected and honored for my decisions.
Transformation
When I first came to Home of the Sparrow, I was just surviving. But after a year of being a part of this organization, I am thriving. In the nearly 20 years of struggling to find the help I needed, I have never come across an organization who is so dedicated to the well-being of single mothers and their children. They helped me and my family to transform our lives.
As a recent graduate, it gives me so much hope for the future knowing that I will continue to be a part of something so special.