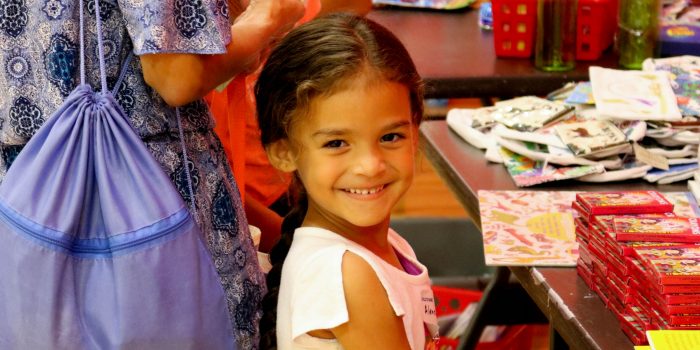 Back-to-School – Home of the Sparrow kids start the new school year with a splash
At Home of the Sparrow, we believe that all women and children should have safe and stable homes. Education is a critical building block for making bright futures without any fears of homelessness. Therefore, we want all children to have what they need to succeed in school. This includes a stable home, but also school supplies and adequate clothing.
New back packs for 84 children
On August 4th, 2018, thanks to our Back-to-School program, the children in our programs received the supplies they needed for a successful school year ahead.
The Back-to-School program lifts a great amount of stress from the mothers in our programs. Every child received a brand-new backpack, quality school supplies for one year, clothes and age appropriate toys.
For weeks, our donor community collected school supplies and we are proud to share that the hard work paid off: all 84 children in need received much needed Back-to-School supplies and back packs.
Prevent and end homelessness for women and children
Our mission is to prevent and end homelessness for women and children in Chester County. The families in our programs live on extremely tight budgets and work hard to be self-sufficient. Because of that, the new school year can be very stressful financially. Home of the Sparrow provides a safety net and housing support. With our help, mothers can focus on building better lives for themselves and their children.
Celebrating the new school year
The culmination of the Back-to-School Program was a family friendly get together at the Brandywine YMCA on August 4th, 2018. Together, we celebrated the beginning of the new school year. Many kids played basketball. We had a healthy family style lunch and our program participants received their brand-new back packs filled with school supplies and Back-to-School outfits. Thanks to our generous donor community, kids also received age appropriate toys and books. Many of them were tried out right then and there.
Fun at the pool
To make this day even better, the Brandywine YMCA reserved a section of the pool for Home of the Sparrow. Under the guidance of a life guard and a volunteer swim buddy, the kids splashed around the pool, enjoying the last couple of days of their summer break. For the mothers in our programs, this day was an opportunity to catch up with old and new friends.
For many of our participants, Home of the Sparrow has become a second family. We celebrate successes together and provide a safety net for our participants.
All children should have what they need to succeed in school. Thanks to our amazing donors and volunteers, 84 kids in need can begin the new school year feeling confident and excited.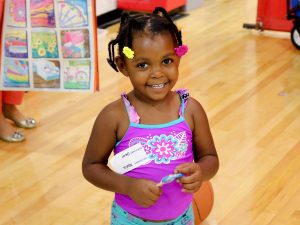 A special thanks goes to the Brandywine YMCA for generously hosting us at no charge, our individual donors and the following corporate supporters: The Desmond Hotel, Malvern, Kantar Media, Whiteland Woods Gives Back, YMCA, Davita, Allstate Insurance Company, DePuy Synthes, Rotary Club of Great Valley, McMahon Associates, Staffing Plus and Portescap.
To ensure continued support for the families in our programs, please click here to donate.