Merry Christmas from Home of the Sparrow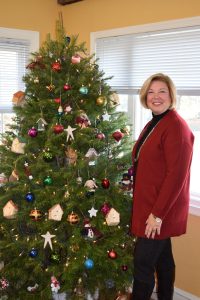 December 24, 2016
I could not imagine a better time to come on board as the new Chief Executive Officer. Patricia McLennan, who will officially retire at the end of the month, has done an outstanding job in building and growing this organization with heart and courage and it is a great honor for me to continue that growth.
Every day, I draw new inspiration from the women we partner with. Their personal journeys, strength and motivation to build better lives for themselves simply astonish me.
Let me give you an example of a personal story that deeply touched me. Anne is in her mid-thirties and she has four children, including a daughter with special needs. We got to know Anne in July, when she reached out for help. Anne had lost her job in May and was now facing eviction. Fortunately, we were able to help her remain in her apartment through our Eviction Prevention Program.
One thing you have to know about her is that she is incredibly hard working and disciplined. From Monday to Thursday, she works on her degree to become a Licensed Practical Nurse (LPN). To provide for her family, she spends Friday through Sunday working in the nursing field. Can you imagine the kind of strength and drive that Anne must have to raise four children on her own, to go to school and to work at the same time? Anne has always been very proactive and diligent in striving to meet her goals and is currently enrolled in our Supportive Housing Program.
Last year, we received 1367 phone calls from women who are in need of safe and affordable housing. Right now, Home of the Sparrow supports 51 women and 85 children through our Supportive Housing Program and we prevented evictions for 68 women and children this year.
There is great need within our community, and we are grateful for all the support we receive. We could do none of this without you. Thank you for your dedication to the women and children in our programs. My goal for 2017 is to build upon the amazing success achieved under Pat's leadership by helping and empowering at risk women and children. We will continue to innovate, empower women to be self-sufficient and financially stable and fight to prevent and end homelessness in Chester County.
Happy Holidays,
Michelle E. Venema
Chief Executive Officer
Home of the Sparrow
(超音波美顔器)伊藤超短波 MJスクラブ – 洗顔やクレンジングでは落とせない毛穴の汚れに。イオン導入でさらに効果がアップ【smtb-s】
数量限定 ダイニングセット ダイニングテーブルセット 4点セット 4人掛け 幅135 ナチュラル 三角テーブル ベンチ 回転チェア 座面 合成皮革 PVC 合皮 木製 デザイナーズ風 モダン 食卓テー
【PCエントリーで全商品ポイント10倍!! 7/1 10:00〜 8/1 9:59】 TR-390 ドライブレコーダー:セルスター
【代金引換不可】ENDOアルミ製 フランスパンスコップ(木柄付)大230cm【運賃別途マークA】【RCP】
プロモーションドール【FIRE TIKI】ド迫力のTIKIドール[Mサイズ] 【1点】sepz『FS』
パナソニック LAN通信型 HEMS対応住宅分電盤 《スマートコスモ コンパクト21》 蓄熱暖房器・エコキュート(エコキュート用ブレーカ容量20A)・IH対応 リミッタースペース付 回路数26+回路ス
【業務用】【 両面棚ワゴン キャスター付 F7X-A 】 【 業務用厨房機器 カタログ掲載 プロ仕様 】
商品延長保証10年つきエアコン取付工事セット(標準取付工事)新品 10畳用(冷暖房) 当店人気工事セット クーラー ルームエアコン 10畳 工事費込み 当店最安値更新中エアコン工事費込みセット 延長保
カウチソファベッド【Meu】ミュー 【ソファ ソファー セミダブル ソファーベッド ソファ カウチソファ おしゃれ リビングソファ ソファベッド】 【RCP】
【エントリーで★最大ポイント10倍!】 SEIKO(セイコー) タイムリンク 中継器 システムクロック SW-302【10P05Nov16】