Home of the Sparrow's 23rd Annual Gala – A truly enchanting evening
On June 9th, Home of the Sparrow hosted its 23rd Annual Gala at the Phelps School in Malvern. More than 340 guests were welcomed by Stacy Sempier (Gala Chair), Barbara Dougherty (Board President) and Michelle E. Venema (Chief Executive Officer) to an Enchanted Woodland.
The Gala is always a very important night for Home of the Sparrow. It's the only time a year when most of our friends are gathered under one roof.
Passion and dedication
Every day, we are inspired by our community's passion and dedication. With the support of our community, we can help 550 women and children per year. Home of the Sparrow's programs do not only help women in need of a safe and affordable home. We provide rental subsidies, financial skills training and support with education and employment. All these services help women gain self-sufficiency and stable housing. Most importantly, mothers get to build better futures for their children.
Hundreds of volunteer hours
For months, volunteers worked in committees and on work days to make this Gala event possible. What better reason is there to build an Enchanted Woodland than to help women and children in need?
Local support
We couldn't have it done it without the volunteer support from local companies including Vanguard, XL Catlin, VOYA, REED Technologies and St. Gobain and the many individual volunteers. During the Gala weekend alone, 84 volunteers supported the set-up, day off and clean-up process. In addition, Gala committee members, board members and the Home of the Sparrow team worked on the live and silent auction, raffle, beverages and so much more.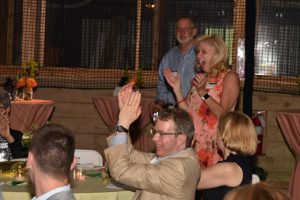 Live Auction
The Live Auction was one of the highlights that evening and the bidding got heated more than once. Congratulations to the bidders who secured one of the live auction items (including a trip to an exclusive private French Chateau, a trip to Sonoma's Wine Country, a trip to Deer Valley in Utah, a Lobster Dinner at the Desmond and tickets to see the Philadelphia Eagles play in London's Wembley Stadium).
The Proceeds – funds to prevent homelessness
It is a longstanding tradition at Home of the Sparrow to reveal the amount of true proceeds (net) at the Wrap Up Party. On June 21st, C.E.O. Michelle E. Venema and Gala Chair Stacy Sempier were proud to share with our gala volunteers, committee members and Board of Directors that we raised $$151,361.94 net. This is an outstanding result for our 23rd Annual Gala. Most importantly, these funds directly enable our  mission and programming.
Ensure that children never have to experience the fear and trauma of losing their homes
Home of the Sparrow works on the front lines of homelessness prevention to ensure that children never have to experience the fear and trauma of losing their homes. The support Home of the Sparrow received that evening has an impact that extends far beyond. Women and children who are living with the fear of losing their homes will have the priceless gift of hope tomorrow.
To support Home of the Sparrow's mission, click here to donate.
Pictures from Home of the Sparrow's 23rd Annual Gala – Enchanted Woodlands
For more pictures, click here to visit our facebook page.
Photo Credits: Virginia Apostolocaus, Karen Shimer, Sophie Tentrop