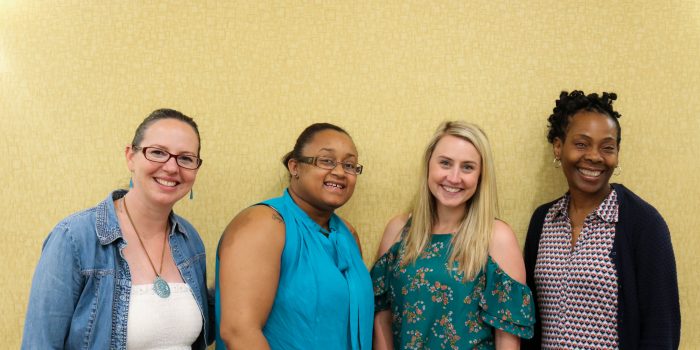 Home of the Sparrow believed in me – Rachel's story
Only 3 years ago, Rachel was close to losing her home. With a Graduate Degree in her pocket, she never thought she would face homelessness. We began partnering with her during this difficult time and are proud to see where she is now. Rachel holds a leadership position, protecting the rights of children in our community.
Rachel was selected to present her story at the Exton Region Chamber of Commerce Non-profit Luncheon on June 5th, 2018.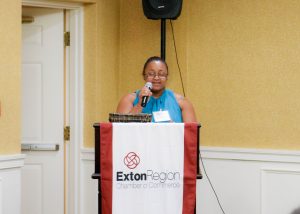 "In January 2015, my hours as a clinician were drastically reduced and I lost my job.  I was pregnant, and I was seven months along with no income. In this situation, I didn't know what to do and was feeling so helpless, lost, scared, and depressed. I didn't have any food left in my home and was fearful of eviction. My unborn child needed me and my sister did too.
My unborn child and my sister needed me
I was and still remain the primary caregiver of my sister who is blind. This is why I just couldn't lose our apartment. I sat in my living room filled with sadness, anger, and fear because I didn't know what to do.
Despite me being an educated young woman with a Master's degree, I saw myself as a failure.  I worked part-time at the YMCA and Mobile Therapy yet it was not enough to cover rent.
Then, I was placed on bed-rest and had to resign from these positions. I put my pride to the side and called Home of the Sparrow.  I was so emotional and remembered crying on the phone. Ms. Matrie came out to see me that same day. She told me that everything would be okay.
Home of the Sparrow was there for me
All I asked for was assistance to pay my rent until my baby was born and I could return to work and get a new job. Ms. Matrie understood, but was also concerned about my health as I had gestational diabetes and needed healthy food for me and the baby. Since I was on bed-rest, she brought food to my home.  This was the beginning of God's blessings and providing me with Angels.
Home of the Sparrow made it possible for us to stay in our home and after my daughter was born. The team provided for me a highchair, pack/play, stroller, car seat, clothing, food, and toys. This took a lot of stress off me and helped me focus on the future.
They believed in me
From the time I picked up the phone to contact Home of the Sparrow to now, I know it was only by God's grace that I am where I am now.  I thank Home of the Sparrow for all they have done. They were my window of opportunity. Ms. Matrie believed in me and she invested in my ability to continue being great. I thank Ms. Carolyn for helping me get back in the workforce and the amazing team who worked with me to help me realize my potential.
While working with Home of the Sparrow, I participated in the Holiday Gift Program, which was huge for me as a single parent.  This helped to alleviate so many different stressors for me.  I thank all the donors for caring so much.
My daughter was in need and they helped, which is a priceless thing to do. I want everyone to know that Home of the Sparrow impacted my life more than they know. Thanks for putting hope and opportunity back into our lives. I am proud to state that I am a graduate of Home of the Sparrow. Thanks to Home of the Sparrow, I am stable, have a full-time job and my family is happy."
To help more women like Rachel get through difficult times, donate to Home of the Sparrow. Your donation has a direct impact, transforming the lives of women and children in our community.