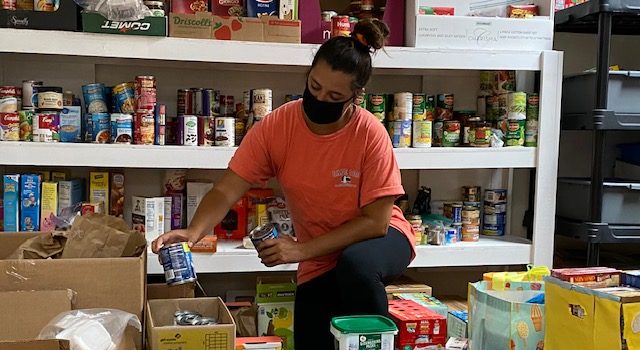 Update for our Volunteers and Friends
It's hard to believe that we are at the 5-month mark since the pandemic began. We've been busy and now we would like to update you on our work:
We never closed. First, we worked remotely, but always had at least one person in the office at all times. When Pennsylvania entered the "green" phase, the whole team returned to the office. Since March, we prepared and distributed over 200 of what we call "go-bags" filled with essential items like cleaning supplies, paper products, detergent, diapers, face masks in adult and child sizes, and feminine hygiene products all made possible by donors responding to our GivingTuesdayNow appeal held on May 5th.
We became a takeout feeding hub, blessed with win/win support from donors who not only supported their favorite restaurants but fed our clients at the same time. Donors supported their local restaurant staff by paying for family-style meals that were delivered to our offices which we in turn gave to our families struggling to put food on the table due to lost wages. This happened over and over again, allowing us to provide hundreds of professionally prepared, nutritious meals to our clients.
While none of us knew what "back to school" would look like, we knew that kids would go back to school in some fashion. So we forged ahead with our backpack program with great success thanks to supporters who donated hundreds of pounds of school supplies like notebooks, pencils, crayons, tape, glue, scissors, calculators, face masks and backpacks just waiting to be filled with everything a child needs to succeed. Volunteers helped stuff the backpacks with age-appropriate supplies and practiced social distancing at the same time.
The $25,000 and $10,000 donor-challenges we issued in the spring were swiftly met! Thank you to the many donors who responded to our spring newsletter and June appeal. We are so blessed to have been the recipient of so much caring and support.
Unfortunately, Social Distancing = Zero In-Person Events. We missed seeing our many friends, volunteers and supporters at our canceled June gala, now rescheduled for April 23, 2021. The summer family picnic we provide to our clients also took a hiatus. Our scheduled October 27th Fashion Show is off the table this year but we've reserved our date for October of 2021. We are actively devising other fun ways to support Home of the Sparrow in the fall. More to come, so keep your eyes and ears open for details.
Looking Ahead. We are mentally and fiscally preparing for the onslaught of women and children needing our help. Women who have never needed our services before, but now find themselves in dire straits. Women facing evictions lost wages, and tightening budgets with no cash reserves left. Cold weather and the holidays are still coming and we want to make sure our children have warm coats, and families have special holiday meals to share. We'd like to ensure our children have a happy holiday filled with holiday spirit, yummy treats, and a few gifts found under the tree. Those donors on our "adopt-a-family" contact list should look for calls for help in late September. If you are not on the list and would like to be, give us a call and we'll have a family, Mom or child to adopt for the holidays.
Thank you for supporting women and mothers who are working hard to have stable housing and financial independence for themselves and their families. Your past generosity and support are greatly appreciated and future contributions will be needed if we are to continue providing support at pre-pandemic levels. We are here.